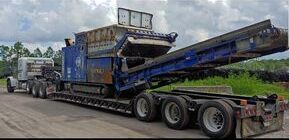 Heavy Haul Specialists
MD Towing Inc. has been in the towing/transport business for twenty years and we offer professional, friendly and knowledgeable services to customers. We love the kind of job we do, which is why we have been in business for over twenty years. The company's founder is well known in the towing/transport industry for being fair and honest.

The towing and transport industry is faced with the challenges of intimidation, towing fee rip-offs, a general lack of etiquette in handling customers, graft, violations of the law and misinformation. These are behaviors that cause irreparable damage to a customer's brand image. We have a mission to ensure that your equipment, all sizes of loads – overweight or light loads – cars, military vehicles, lumber, and several others are delivered as quickly and safely as possible.

In equipment hauling and construction hauling, some of the most challenging things to transport are containers, drilling equipment, manufacturing equipment, raw materials, paving equipment, pumps, and several others. At MD Towing Inc., we ensure safe and reliable transport of your construction equipment in addition to other services. Regardless of the weight of your loads, whether you have heavy loads, oversized loads, overweight loads or super loads, we can transport them to any location of your choice. Interestingly, we handle most of the projects that other companies cannot manage and this has further increased our level of experience and distinguished us significantly.
 
We believe the greatest compliment is a customer referral. That's why we provide all customers with the absolute best service and highest quality work, at fair and competitive prices.